I continue to believe that
Arnold Schwarzenegger
movies are not real. Yes, he's the governor of CA, which is disturbing, but really...can we expect a new game show where professional wrestlers KILL prisoners? (American Gladiators meets Guantanamo Bay! Love it!) And yet, that classic knee-slapper "Junior" is suddenly a true story? Well...Good Morning America shocked me with the lead in that a MAN IS PREGNANT!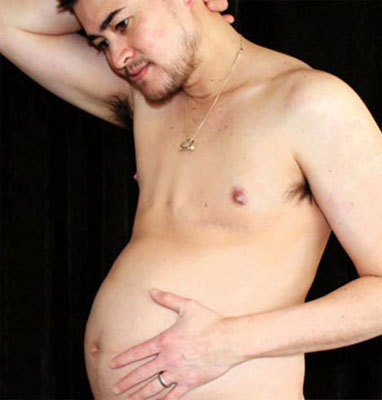 I had to leave for work, but once I got here, I immediately investigated. Here's the
deal
: this woman had a "
sex change
" and is now a man. Well, duh. Of course a MAN can't be pregnant. But how could someone with a sex change operation still get pregnant? How bout if he STILL HAS A
VAGINA
?! I'm all in support of sex reassignment, but in order to CHANGE GENDER, you need to go the whole nine yards. Keeping your vagina, skipping hormone therapy, and getting pregnant DOES NOT make you a pregnant man. And you know what, I resent being told that you are a pregnant man. Cause it's not true. And you are just being a media whore...or media pimp. So, thank god, Arnold's films are still fantasies. Though if someone wants to send him to Mars, preferably SOON, I'm all for it.